: Global Day of Coderetreat 10th Anniversary
Overview
Imagine a day writing code just for the love of writing it beautifully! A day without the office pressures of "getting things done" … a day just focused on practicing the art of writing clean, lean, modular and test driven code… Welcome to the Global Day of Coderetreat, an annual global event where passionate programmers come together to hone their skills.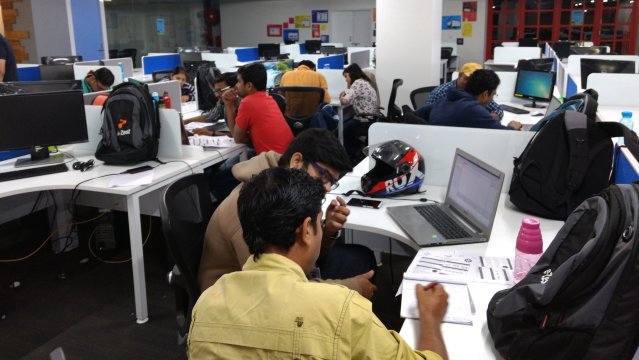 Last year's GDCR had more than 130 events in more than 100 cities with more than 2000 developers involved! GDCR 2019 will be held on 16th November 2019 across many cities around the world… and will involve many many programmers world wide. This is the 10th anniversary of Coderetreat. We expect this year's event to be huge and very memorable.
For the GDCR 2016, 2017, and 2018, Nelkinda contributed to more than 15 events by hosting, facilitating, training, supporting and sponsoring. For the GDCR 2019, we are aiming at getting 500 developers trained in Pune and other cities. Find below the list of events associated with Nelkinda around the world.
Page
Country
City
Area
Host
Location
Facilitators
Registration
India
Pune
Magarpatta
Amdocs
Map
Prasad Bhalkikar,
Chaitanya Vysyaraju,
Saurabh Sharma,
Kiran Mahamuni,
Poonam Walke,
Devendra Ghosh,
Nisha Sahu,
Laukik Kulkarni,
Gaurav Shirdhonkar,
Preety Kondyal,
Sayali Bhatambrekar,
Dhanish Pathak,
Varun Kohli,
Vaibhav Pokale,
Saransh Jain,
Gaurav Joshi,
Nishant Pandya,
Sourav Rath,
Vikash Agarwal,
Yashesh Shah,
Arunraaj K R,
Tushar Wagh
Register
India
Pune
Senapati Bapat Road
Ash Software
Map
Nikhil Khandelwal,
Sounik Chandra
India
Pune
Kalyani Nagar
Equal Experts
Map
Aashish Ghogre,
Sagar Mate
Register
India
Pune
Yerawada
Helpshift Technologies
Map
Faiz Halde,
Manoj Kumar,
Sashi Bhushan Singh
Register
Germany
Wolfsburg
Porschestraße 58
Hexad
Map
Douglas Caina
Register
Nepal
Lalitpur
Jyaasa Technologies Pvt ltd
Map
Neha Suwal,
Rasna Shakya,
Santosh Sah,
Nikesh Suwal,
Kuber Aaganja,
Umesh Prasad Kafle
Register
India
Pune
Pune-Satara Road
Perennial Systems
Map
Akhilesh Kshirsagar,
Akshay Khade,
Azhar Laskar,
Sandesh Uttarwar
Register
India
Pune
Kalyani Nagar
Red Panda
Map
Prakhar Tripathi,
Rahul Katariya
Register
India
Pune
Viman nagar
Tavisca Solutions
Map
Gurpreet Luthra,
Amar Palsapure,
Siddharth Tathe,
Chanchal,
Mandar Joshi,
Sudarshan Patil,
Mayur Pandey,
Vaibhav Goswami,
S Tabish,
Sounak Pal,
Shubham Saxena,
Chetan Kalotra,
Sheetal Mohite,
Naseem Mulani,
Natasha Jain
Register
India
Pune
Viman nagar
Technogise
Map
Abhijit Hycinth,
Sagar Yadav
Register
India
Pune
Magarpatta
Townscript
Map
Piyush Tiwari,
Pratik Patwari,
Sushant Pawar
Register
Germany
Berlin
Stralauer Allee 7
Di:Lab
Map
Abhimanyu Chakravarty
Register
Germany
Berlin
Stralauer Allee 8
Map
Abhimanyu Chakravarty
GDCR 2019 events being conducted around the world.
There are independent events happening in Pune which are not associated with Nelkinda.
Country
City
Area
Hosts
Location
Facilitators
Registration
India
Pune
RB Motilal Kennedy Rd
EPAM Systems Pune
Map
Vipul Gupta
Register
India
Pune
Wadgaon Sheri
Sahaj Software Solutions Pvt Ltd
Map
Pradip Hudekar
Karun Japhet
Kulbhushan Singhal
Register
Independent GDCR 2019 events being conducted in Pune.
Want to run a Coderetreat but don't know how? Contact us and ask about support for your Coderetreat. We can help you!
Links
¹:

Nelkinda supports Coderetreats in many forms, for example Host Training, Facilitator Training, providing slides and posters, announcing a coderetreat on the Coderetreat website (subject of acceptance by the organizers of the Coderetreat website), meetup.com, Eventbrite and others. If you would like any help from Nelkinda with your Global Day of Coderetreat instance, just ask us.