Razer Blade Stealth
At Nelkinda, the Razer Blade Stealth became one of the most loved Ultrabooks. Here's how it behaves, how we like it and how it compares with other Ultrabooks.
Author:

Christian Hujer

,

CEO / CTO at Nelkinda Software Craft Pvt Ltd

First Published:

Last Modified:

by Christian Hujer

Approximate reading time:
1 Hardware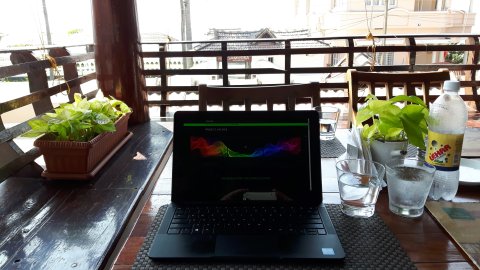 1.1 Hardware Specs
Device
Razer Blade Stealth
Case
Width
321mm
Depth
206mm
Height
13.1mm
13.8mm
Weight
1.29 kg
1.35 kg
CPU
Model
Intel® Core™ i7-7500U
(7th Generation, Kaby Lake)
Intel® Core™ i7-8550U
(8th Generation, Kaby Lake)
Bits
64
Clock
2.7 GHz
1.8 GHz
Max Turbo Clock
3.5 GHz
4.0 GHz
Cores
2
4
Threads
4
8
Display
Size
12.5″
13.3″
Technology
IGZO with LED backlight
Resolution
3840 × 2160 (UHD / 4K)
3200 × 1800 (QHD+)
Aspect Ratio
16:9
Type
Glare
Touch
capacitive multi-touch
RAM
Size
16 GiB (2×8 GiB)
Type
LPDDR3
Clock
1867 MHz
2133 MHz
Manufacturer
Samsung
Micron
GPU
Type
Intel® HD Graphics 620
RAM
Shared
Kernel Module
i915
SSD
Size
1024 GB (953 GiB)
512 GB (476 GiB)
Manufacturer
Samsung
Model
MZVLW1T0HMLH
MZVLW512HMJP
Battery
Capacity
4640 mAh
Energy
54 Wh
Runtime
~5h
Supply
Power
45W
65W
Connector
USB-C
WLAN
Killer™ Wireless-AC 1535 (IEEE 802.11a/b/g/n/ac)
Bluetooth
Bluetooth® 4.1
Ports
HDMI
1 (HDMI 2.0a)
USB 3.0
2
Thunderbolt™ 3
1
Camera
YUYV (max resolution)
4:2:2, 1920 × 1080, 5 fps
4:2:2, 1280 × 720, 10 fps
YUYV (max frame rate)
4:2:2, 640 × 480, 30 fps
4:2:2, 640 × 480, 30 fps
MJPEG
1920 × 1080, 30 fps
1280 × 720, 30 fps
H.264
n/a
Microphone
Stereo Array
Keyboard
Layout
80 key US International English
Ghosting
Anti-Ghosting
Backlight
Razer Chroma™
OS
Shipped
Windows 10 Home 64-Bit
Used / Tested
Kubuntu 17.04
Kubuntu 17.10
Kubuntu 18.04
Table 1-1: Technical Specification of the Razer Blade Stealth
1.2 Tested Setup
The tested setup is with the following additional hardware:
Razer Core + EVGA GeForce GTX 980 TI
Razer Base Station Chroma
Razer ManO'War Headset
Razer Seirēn Pro with pop filter
Razer Leviathan Mini portable Bluetooth speakers
Razer Nabu smartband
3 24″ LG 24UD58 UHD (4K) Screens, total resolution: 11520×2160
Razer Stargazer Webcam
Razer Kiyo Webcam
Razer Leviathan Speakers
Microsoft Sculpt Ergonomic Keyboard for Business
Razer Firefly Cloth Edition Mouse Mat
Razer Lancehead Wireless Mouse
2 System Usage
I use the system for the following purposes:
Software Development on Linux

Chromium
IntelliJ IDEA
Java etc.
JetBrains Toolbox
Konsole, bash
Several other JetBrains programs

Office Use

Dropbox
Google Docs / Presentation / Sheets
Google Drive
Google Hangouts
LibreOffice
Slack

Gaming on Linux

7 Days to Die (currently my favorite game)
Baldur's Gate: Enhanced Edition
Baldur's Gate II: Enhanced Edition
Counter-Strike: Condition Zero Deleted Scenes
Counter-Strike: Condition Zero
Counter-Strike: Global Offensive
Counter-Strike
Counter-Strike: Source
Icewind Dale: Enhanced Edition
Minecraft
Planescape: Torment: Enhanced Edition
Portal 2
Sid Meier's Civilization V
Steam
X3: Albion Prelude
X3: Reunion
X3: Terrain Conflict
3 First Impression
The first impression of the Razer Blade Stealth is awesome. Except for one thing, the bezels. It's actually a 14″ Ultrabook with a 12″ screen. The device feels very robust and sturdy. For an Ultrabook it has a good, although not top-in-class, selection of ports (see data). When it comes to ports, the Dell Latitude 7480 totally outperforms the Razer Blade Stealth. The built-in Webcam is of mediocre quality unless you use the proprietary driver, it is glitchy and doesn't encode H.264 by itself. If you need a good quality webcam, go for the Logitech C920 or Razer Kiyo.
4 Remarks
4.1 Positive
Thunderbolt™ 3 is downwards compatible with USB-C / USB 3.1. You can use the Thunderbolt™ 3 port as a USB-C / USB 3.1.
The case feels very stiff and sturdy.
Razer offers the Razer Core, a Thunderbolt™ 3 device to host an external graphics card, which has 4 USB 3.0 ports and 1 Gigabit Ethernet port.
A Linux installation (Kubuntu 17.04 or 17.10) went smooth and without any problems.
Although the keys have minimal travel, they feel very good to type. In touch typing Aesop's fables, my maximum speed in three attempts was 101 words per minute. Over time, that speed went up further as I got more accustomed to the keyboard.
The camera on the model w/ Intel® Core™ i7-7500U Processor is Full HD resolution 1920×1080, which is a rarity in its class. Most Ultrabooks support HD (720p) at max, some even only resolutions as low as 480p.
The touchpad feels awesome. It is precise and has very low friction.
The UHD (3840×2160) touch display is very very bright.
4.2 Neutral
VGA and DisplayPort are available via Thunderbolt™ 3 or USB-C.
In dark environments, the display is still a bit bright when dimmed down completely. It's not yet disturbingly bright, however.
The Razer Blade Stealth has audible coil whine. Whether or not that bothers you is up to you.
4.3 Negative
Only available with Windows 10 Home. No OS alternatives available, no stock Linux available. And Windows 10 just sucks.
The bezel. Huge bezels! Too big!
No SD card reader.
The camera on the model w/ Intel® Core™ i7-8550U Processor is only HD resolution 1280×720. This is a downgrade from the previous model.
The camera (on both models) does not encode H.265 or at least H.264 by itself. Also, the picture quality of the camera is just mediocre. If you use a webcam frequently, I recommend using a Logitech C920 or Razer Kiyo instead of the laptop's camera.
The configuration with US / International English keyboard layout not easily available outside the USA. In the UK, this was available on Amazon for some time, thanks to Coryell Solutions. But it seems that they have discontinued that offer.
No SIM card slot/built-in 4G modem. If you want to enjoy mobile internet, you need a portable Wi-Fi hotspot or a USB LTE modem. This is a rare feature, but it's available with some competitor models, like the Dell Latitude 7280 and Dell Latitude 7480.
The case is susceptible to fingerprints and scratches. Treat it with care or get a skin.
There are a few minor glitches on Linux.
You cannot replace the keyboard with one that has a different layout.
Only one Thunderbolt™ 3 / USB 3.1 (USB-C) port. Two would've been better because this port is the future.
5 Kubuntu 17.04 / 17.10
5.1 Installation
The installation of Kubuntu 17.04 or 17.10 runs straight-forward the standard way without any problems.
5.1.1 Dual-Boot Installation
To install Kubuntu as Dual Boot with Windows:
Disable Secure Boot in the BIOS
Boot Windows, shrink the main partition
Boot Kubuntu from USB memory, run installation
Pick the space freed in Windows and assign it to / in format ext4
Install
Re-enable Secure Boot in the BIOS
5.1.2 Linux-only Installation
To install Kubuntu as the sole operating system:
Boot Kubuntu from USB memory, run installation
Install
5.2 lspci, lsusb etc.
The following is the output of lspci in the connected setup.
The following is the output of lsusb.
5.3 Runtime Problems and Glitches
Screen Flicker with Intel® Core™ i7-8550U processor.
Caps Lock crashes the system (12″ model only).
Not the fault of the laptop: Some Linux applications have bugs regarding HiDPI displays and do not scale properly. You can workaround this by using 1920×1080 instead of 3840×2160 as resolution in case it's too inconvenient in the applications that you use.
When the Razer Core is used for external graphics, the system can crash quite frequently. This is probably a bug in the Linux Kernel, the X server or the drivers. Interestingly, if an HDMI port is connected, even if not actually used, just connected to a screen, the system crashes much less frequently. This applies to the 12″ model only.
Disconnecting from the Razer Core crashes the system. If you want to disconnect, first shutdown. This is because X11 never took dynamic swapping of graphics drivers into account.
5.3.1 Screen Flicker with Intel® Core™ i7-8550U Processor
You might encounter massive screen flickering on the Razer Blade Stealth with Intel® Core™ i7-8550U Processor. That screen flickering is so massive that it seems to render the laptop unusable. But don't worry, there's an easy solution. Just follow these steps:
sudo vi /etc/default/grub, for variable GRUB_CMD_LINE_LINUX_DEFAULT append i915.edp_vswing=2 i915.enable_rc6=0
sudo update-grub
Reboot
After that, the screen flickering is completely gone.
5.3.2 Caps Lock Key Crash (12″ model only)
The kernel crashes when pressing the Caps Lock key a second time (light off). The Caps Lock key should be disabled anyway. In KDE, the Caps Lock key can be disabled the following way:
Go to System Settings
In section Hardware, open Input Devices
On page Keyboard, tab Advanced,

Enable Configure keyboard options
In the table, under Caps Lock key behavior, check Caps Lock is disabled
Note that this only changes the Caps Lock key behavior of the session of the user that made the change. SDDM (the login screen) is not affected by this. So, be careful not to press Caps Lock when logging in.
5.4 Razer Drivers
Tim Theede and Terry Cain have developed razer drivers for Linux [RAZER-DRIVERS]. The installation of the razer drivers on Kubuntu is performed with a set of typical commands described on the page about the drivers.
6 Extra Stuff
6.1 Getting the Razer Wallpaper onto Linux
If you haven't erased your Windows partition, you can copy the wallpaper from Windows. Otherwise, you can download the wallpaper from the Razer website. If setting the wallpaper as a background for Konsole, you need to scale it.
6.1.1 Copying the Wallpaper from Windows
To copy the wallpaper from Windows, you need to execute the following steps:
Mount the Windows partition
Copy the file from Windows to Linux
Umount the Windows partition
6.1.2 Downloading the Wallpaper from Razer
Razer has published a lot of wallpapers on their website. This includes the Chroma wallpaper that comes with the Razer Blade Stealth.
6.1.3 Scaling the Wallpaper for Konsole
Konsole expects the background image in the size of the down-scaled window, which is a bit sad. For example, let's look at a Razer Blade Stealth 4K and scaling factor of 2.5. The native resolution is 3840×2160 pixels. With a scaling factor of 2.5, Konsole thinks and expects 1536×864 pixels. Also, for Konsole we want the image to be darkened. We will use NetPBM to darken and scale the image.
The following shell command will create a scaled version of the image as background for Konsole.
7 Competitor Models
In our environment, the Razer Blade Stealth competes in the Ultrabook league against the following competition:
Dell Latitude 7280 (Kaby Lake), Dell Latitude 7480 (Kaby Lake)
Dell XPS 13 (Kaby Lake)
8 How a Desk looks like
The Razer Blade Stealth makes it into a full-blown developer workstation and with the Razer Code even for 4K gaming. This is what the desk looks like, with all the other stuff.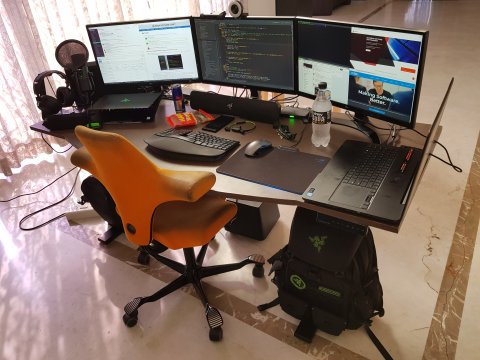 9 Support
There is a forum in the Razer Zone dedicated to using Linux on/with Razer products. It's called The Linux Corner.
I've seen Razer reacting quickly and nicely to support questions on Twitter. Getting a response on social media is one thing. Getting a broken laptop replaced quickly as a company is quite a different thing. Some companies need 24h or 48h replacement options, internationally. In that case, you're probably better off with Dell, HP, or Lenovo.
10 Watch out for more!
We also have a 17" Razer Blade Pro for video production.
11 Conclusion
With its black case, slick design and Chroma™ keyboard, the Razer Blade Stealth is an eye-catcher indeed. But more than that, it's just really a lovely device that is serious fun to use.