Nelkinda Team: Reema Panarkar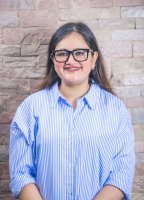 Reema Panarkar
People Management
Reema Panarkar is our operations and people management support. She has a bachelor's degree in computer engineering and a master's degree in business administration. She started her career as a center manager in 2013 and since then has worked in various sectors like arts, SMEs and events. Over the past 7 years, she has gained experience in operations, public relations, communication, organizational and people-power management.
Belonging to the management tribe, she loves when things are well organized and well communicated. Being a people's manager, she likes working collectively with a team and believes that everyone's contribution to the company is equally important irrespective of their job profile.
Reema is also a Visharad in Bharatnatyam and aspires to be a professional artist. Always willing to learn and explore new things and connect and meet new people, she has a soft corner for people who love to dance!