Nelkinda Team: Bharati Koot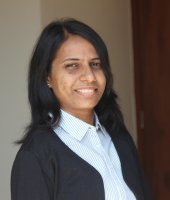 Bharati Koot
Software Craftsperson
Bharati has 8+ years of experience in varied areas from Embedded Software Development to Software Processes and Software Crafts.
She has worked on Java Card and Native SIM Card OS development from hardware layer to application layer. She has worked with ARM and 80x51 microcontrollers; IDEs like Keil µVision, Eclipse, CalmSHINE16Plus, and programming languages C, C++, Golang, Kotlin, Java, Java script. In embedded there is always a resource constraint like RAM, NVM and she has helped her team to optimize their (especially RAM) usage that was the last minute and a must needed to deliver the product which was close to release and having very less time in hand.
She knows using and writing Android applications, CSS, HTML, PHP, XML, XSLT, Bash scripts, and Make files.
She is Agile, Clean Code, TDD, XP practitioner and trainer.
She can efficiently contribute to product requirements analysis, estimation, design, development and up to post deploy product support.
She has experience of working with Agile teams and supporting organizations with process transformations.
Being reading and writing enthusiast, she is good at content writing for digital marketing and client engagement communications.
Being optimistic she stands as a motivation to people around her. She is quick to identify problems with software as well as people and helps to solve them. In her personal life too, she likes to live optimized, organized and being minimalist. As she loves clean code, she also loves the clean environment and she always strives for both. In her own time, she writes poetry and blog articles, read books, loves to listen to music, engage herself in social activities and family.
Credos
Goodness is the only investment which never fails. Henry David Thoreau
Most of Business and Social solutions lie in People Motivation. Self
Links