Razer Blade Stealth V6 (Late 2019?) Wishlist
For the Razer Blade Stealth V6 (Late 2019?), I wish a few upgrades, a few things should stay the same, and things should change back to how they were in the previous models. The upgrades that I wish for are 32 GiB RAM, a faster CPU, bigger SSD, and better battery quality. The display should stay the same. The keyboard should have per-key Chroma backlight, the case should have a glowing logo, the webcam should be 1080p. And please, Razer, give me an option to buy your hardware without the crapware from Microsoft. Also, bring back that HDMI port!
Author:

Christian Hujer

,

CEO / CTO at Nelkinda Software Craft Pvt Ltd

First Published:

Last Modified:

by Christian Hujer

Approximate reading time: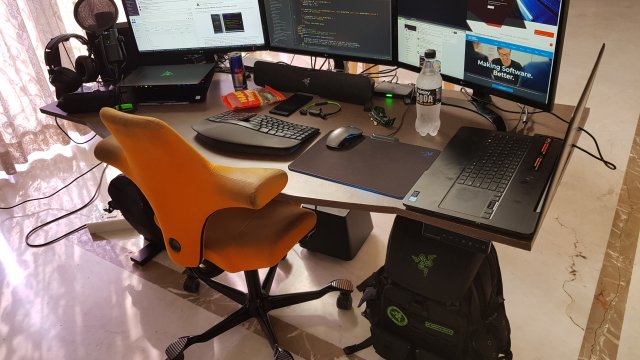 I've been using a Razer Blade Stealth for 2.5 years now. Based on that experience, I have a certain wishlist for the next Razer Blade Stealth which is probably going to be released in fall 2019.
1 RAM
The Razer Blade Stealth is an extremely powerful ultrabook. In its current top configuration, it features 16 GiB RAM. Yet, regarding RAM, I regularly reach its limits. I use Docker and VirtualBox a lot. 16 GiB RAM is too little to run virtual machines without having to worry about memory.
Because I reach the limits of 16 GiB RAM, I wish for a model that features 32 GiB RAM instead. I know that the CPU is able to deal with 32 GiB instead of 16 GiB RAM. However, there might be a restriction when it comes to the type of RAM. It could be that for the preferred type of RAM in an ultrabook, which is LPDDR3, the CPU can only deal with 16 GiB.
I also wish that instead of LPDDR3, LPDDR4 would be used. But that's not possible, because LPDDR4 is not supported by current Intel ultrabook CPUs yet.
2 CPU
Razer typically chooses the fastest CPU available within a reasonable TDP range. I expect the Razer Blade Stealth Late 2019 model to have another CPU upgrade. I expect it to feature the newly released Intel® Core™ i7-8665U processor.
Of course, it would be even nicer if the new Razer Blade Stealth 2019 would feature a 9th generation Intel Core i7-CPU. But as of today, the ultrabook variants of the 9th generation Intel® Core™ i7 Processors aren't released yet [Intel9thGeni7]. And who knows, maybe Intel is going to skip the 9th generation altogether for Ultrabooks and directly goes to the 10th generation of its processors [Intel10thComingSoon]. If that happens in fall, it's quite likely that the Razer Blade Stealth 2019 will be one of the first ultrabooks to feature a 10th generation Intel Core i7-CPU.
Some people might wish for an AMD CPU instead of an Intel CPU. I love AMD. And most of my IBM-compatible Desktop PCs have had AMD CPUs, all my life. But as long as AMD does not support Thunderbolt-3, AMD is not an option in any ultrabook or laptop for me.
3 Display
From the Late 2016 model to the Late 2017 model, the display was a side-step. The size was an upgrade from 12.5″ to 13.3″, delivering much thinner bezels. But the resolution was a downgrade from UHD/4K 3840×2160 to only QHD+ 3200×1800. The resolution is still good, but I can no longer record 4K screencasts from the laptop display.
The Late 2018 model fixed that problem by going up to UHD/4K 3840×2160 again. I expect the Late 2019 model to stay at that resolution and display. I prefer Full HD 1080p 1920×1080 and 4K 2160p 3840×2160 resolution displays because of screencast production. I like to consistently record in 4K 2160p, and if I have to fall back to a lower resolution, it should be Full HD 1080p.
And I wish the display to be non-glare. I know, a 4K non-glare display may still be a wish only. I don't know if anyone makes 4K non-glare displays.
4 Keyboard
My experience with Razer keyboards was always good. I like the individual backlight on the Late 2016 and Late 2017 models. Besides being an eye-catcher, this can be quite useful in some games. And I'm wondering if integration of an IDE like IntelliJ IDEA with Razer Chroma could be an interesting feature for programmers.
The Late 2018 does not feature individual backlight. For me, that's a significant downgrade, and I'm very disappointed by this step. And I think it's inconsistent. The Late 2018 model is the first Razer Blade Stealth to feature a powerful GPU compared to the built-in Intel® UHD Graphics 620. This makes the Razer Blade Stealth Late 2018 model much more suited for mobile gaming than the previous models. It puzzles me that at the same time, the keyboard is less attractive for gamers now.
Therefore I wish that the Late 2019 model brings back individual backlight.
5 Case
The case of the Razer Blade Stealth always looks stylish. It's very robust, sturdy, and light-weight. The Late 2017 model which I currently use weighs only 1.35 kg. That is so light-weight that I never ask twice whether I should take the laptop with me. I just do it.
But the Late 2018 model has done away with the green-lit Razer logo. I know that some people complained that it is too fancy for an ultrabook. It makes them feel uncomfortable using the Razer Blade Stealth in professional environments. Here's my opinion on this. Whoever sits with a Razer Blade Stealth in a business meeting and is worried about the green Razer logo looking too fancy does not deserve to use any Razer products at all, ever. In fact, there's nothing cooler than a thread-headed snake sitting between 3 bitten apples.
Regarding the case, my wish for the Late 2019 model is clear. Razer should bring back the green-lit Razer logo. Or even better, have the Razer logo with Chroma RGB features.
6 Storage / SSD
The Late 2016 model was available in a configuration with 1 TB SSD. I obviously went for that configuration. Docker images, Virtual Machine images, OS storage inside the Virtual Machines, music, photos, videos, and screencasts all need a lot of memory. Since the Late 2017 models, the maximum SSD offered by Razer is only 512 GB. That is not enough. While I can upgrade the SSD easily myself, this is not convenient. Why pay for an SSD which I don't use because it's too small?
My wish for the Late 2019 model of the Razer Blade Stealth is to feature a configuration with 2 TB SSD.
7 Webcam
The Late 2016 model had a 1080p Full HD webcam with 1920×1080 pixels resolution. The newer models only have a 720p HD webcam with 1280×720 pixels resolution. That's a downgrade, and I wish for the Late 2019 model to go back to a 1080p Full HD webcam with 1920×1080 pixels resolution.
Also, I wish that the camera itself is capable of encoding its video stream in H.264. This is not an expensive feature. Even the Raspberry Pi camera board can record 1080p30 and encode it as H.264. I don't see why the camera of the Raspberry Pi should be more powerful than the webcam of my Razer Blade Stealth ultrabook.
8 Operating System
Whenever I buy a computer from Razer, I'm paying for an operating system from Microsoft which I do not use. I always install Kubuntu. Unwanted preinstalled software is also known as crapware. For me, a preinstalled Microsoft Windows is crapware. Therefore I wish that Razer would offer their laptops with an option without operating system, or even better, Kubuntu preinstalled.
9 Battery Quality
Razer needs to put more pressure on their battery vendor or switch the vendor. Of both Razer Blade Stealth that I own, the battery suffered from battery bulge after about a year of use. The good thing is that it was possible for me to order replacement batteries online and replace the battery myself. Still, for a product of the price of a Razer Blade Stealth, such quality issues are unexpected and inconvenient. Therefore I wish that Razer will improve their battery quality.
10 Ports
Of the current Razer Blade Stealth V5, ports is the biggest woe. With the previous Razer Blade Stealth models, I could make fun of the Apple MacBook users that have to carry dongles to connect to projectors. In the Razer Blade Stealth V5, Razer have removed the HDMI port. Razer, what were you thinking?! Bring back that HDMI port! I don't want to carry dongles!
11 Comparison Table
Device
Name
Razer Blade Stealth
Generation
Late 2016
Late 2017
Late 2018
Late 2019?
Version
V3
V4
V5
V6
Owned
Latest
Desired
Case
Width
321mm
305mm
Depth
206mm
210mm
Height
13.1mm
13.8mm
14.8mm
Weight
1.29 kg
1.35 kg
1.38 kg
CPU
Model
Intel® Core™ i7
i7-7500U
i7-8550U
i7-8565U
i7-8665U
Generation
7th Generation
8th Generation
Kaby Lake
Kaby Lake R
Whiskey Lake
Bits
64
Base Clock
2.7 GHz
1.8 GHz
1.9 GHz
Max Turbo Clock
3.5 GHz
4.0 GHz
4.6 GHz
4.8 GHz
Cores
2
4
Threads
4
8
Display
Size
12.5″
13.3″
Technology
IGZO with LED backlight
?
Resolution
3840 × 2160
3200 × 1800
3840 × 2160
UHD / 4K
QHD+
UHD / 4K
Aspect Ratio
16:9
Type
Glare
Non-Glare
Touch
capacitive multi-touch
RAM
Size
16 GiB (2×8 GiB)
32 GiB (2×16 GiB)
Type
LPDDR3
Clock
1867 MHz
2133 MHz
Manufacturer
Samsung
Micron
?
GPU 1
Type
Intel® HD Graphics 620
RAM
Shared
Kernel Module
i915
GPU 2
Type
n/a
NVIDIA® GeForce® MX150 (25W)
RAM
4 GiB
Kernel Module
nvidia
SSD
Size
1 GB (953 GiB)
512 GB (476 GiB)
2 TB
Manufacturer
Samsung
?
Model
MZVLW1T0HMLH
MZVLW512HMJP
?
Battery
Capacity
4640 mAh
Energy
54 Wh
Runtime
~5h
Supply
Power
45W
65W
Connector
USB-C
WLAN
Card
Killer™ Wireless-AC 1535
Intel® Wireless-AC 9560
?
Standard
IEEE 802.11a/b/g/n/ac
Bluetooth®
4.1
5.0
Ports
HDMI
1 (HDMI 2.0a)
n/a
1 (HDMI 2.0a)
USB Type-A
2×USB 3.0
2×USB 3.1
2×USB 3.2
Thunderbolt™ 3
1
USB-C™
n/a
1×3.1 Gen 2
1×3.2 Gen 2×2
Camera
YUYV (max resolution)
4:2:2, 1920 × 1080, 5 fps
4:2:2, 1280 × 720, 10 fps
?
YUYV (max frame rate)
4:2:2, 640 × 480, 30 fps
?
MJPEG
1920 × 1080
1280 × 720
1920 × 1080
30 fps
H.264
n/a
in-camera
Microphone
Stereo Array
Keyboard
Layout
80 key US International English
Ghosting
Anti-Ghosting
Backlight
Razer Chroma™
individual
single-zone
individual
OS
Shipped
Windows 10 Home 64-Bit
none or Kubuntu
Used / Tested
Kubuntu 18.04
none
12 Conclusion
The Razer Blade Stealth is a lovely device. But despite having an NVIDIA® GeForce® MX150, the Razer Blade Stealth V5 (Late 2018) wasn't attractive enough to me. In some ways, upgrading from the Razer Blade Stealth V4 to V5 would've felt like a downgrade. I hope that Razer goes back to its roots and undoes some of the changes on the Razer Blade Stealth that removed "the cool".
And, Razer, bring back that HDMI port!